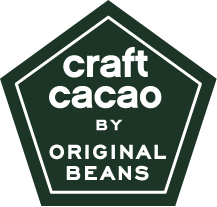 ORIGINAL BEANS
Original beans is a bean to bar craft chocolate maker focused on environmental consciousness. With years of successful collaboration and friendship, our teams combine decades of experience in the commodity and craft cacao industry to source and share the world's best beans for every segment of the chocolate industry. It's all fueled by our deep, shared purpose to change chocolate from exploitative to regenerative, and together, with our growers, our customers, and our partners, we are raising the bar in the chocolate industry.
Visit ORIGINAL BEANS

ECOM AGROINDUSTRIAL
ECOM Agroindustrial is a leading global commodity merchant and sustainable supply chain management company. With 170 years of experience, ECOM has been supporting the cacao, coffee, and cotton supply chains for generations, closely connecting with farmers to navigate the challenges of supply chains and work together to improve outcomes for all participants. In 2021, the Cacao Latitudes team was formed under ECOM with a mission to work within the traditional trade environment to identify opportunities to better support specialty cacao farmers as well as craft chocolate makers around the world.
Visit ECOM AGROINDUSTRIAL